Public Enterprise Sachsenforst (SBS)
The Public Enterprise Sachsenforst (SBS) is a legally non-independent, decentralized public enterprise. It is subject to technical supervision by the Saxon State Ministry for Energy, Climate Protection, Environment and Agriculture. A board of directors was set up as a supervisory body. Sachsenforst is responsible for the management and administration of the Saxon state forest, the advice and support of private and corporate forest owners as well as the forest framework and other specialist planning for forestry and the implementation of practical forestry experimental and research tasks. According to § 37 (1) of the Saxon Forest Act, it guarantees the unity of common good and economic tasks and thus performs the tasks of the upper forest and hunting authority.
The competence center for forest and forestry of the Public Enterprise Sachsenforst acts as a practice-oriented research institution for the Saxon forest and ensures a continuous further development of the knowledge and information base for a sustainable management of the forest of all property types and the development of strategic bases for the management of the state forest under the Influence of increasing environmental risks and climate change. The Unit for Forest Geographical Information Systems, Cartography and Surveying is responsible, among other things, for the forest monitoring with data from remote sensing. Methods are being developed and applied operationally for recording forest condition data, for vegetation-ecological monitoring and for localizing changes in vitality by use of aerial photography, satellite image and laser data.
Public Enterprise Sachsenforst
Competence center for forest and forestry
Unit for Forest Geographical Information Systems, Cartography and Surveying
Bonnewitzer-Straße 34, OT Graupa
01796 Pirna
www.sbs.sachsen.de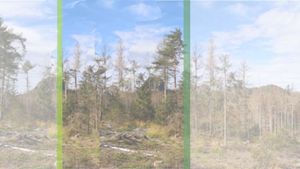 Karina Hoffmann
karina.hoffmann@smul.sachsen.de
Phone: +49 3501 542 - 260
Work Task: • Project leadership and project management in SBS, preparation of verification data for Saxonian study areas (AP3) • Implementation of the results into the IT infrastructure of the SBS and development of refined damage mapping for Saxony (AP6) • Development of validation concept and validation of results for Saxonian study areas (AP7) • Publication activity (AP11)
Julian Backa
julian.backa@smekul.sachsen.de
Phone: +49 3501 542 - 451
Work Task: • Preparation of verification data for Saxonian study areas (AP3) • Implementation of the results into the IT infrastructure of the SBS and development of refined damage mapping for Saxony (AP6) • Development of validation concept and validation of results for Saxonian study areas (AP7) • Publication activity (AP11)